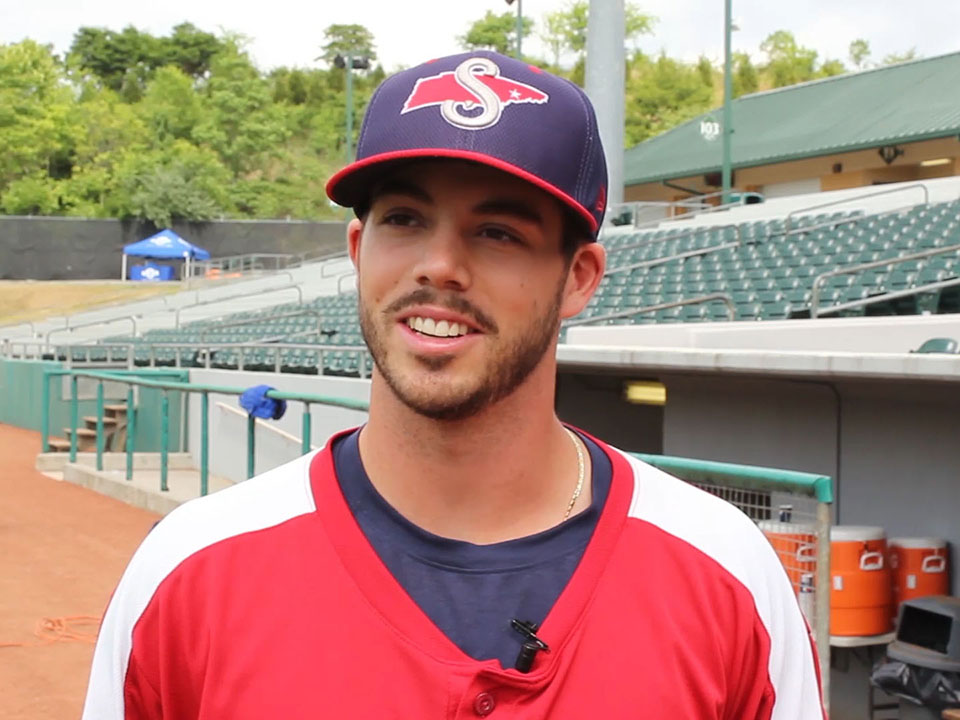 By Andrew Green
The Southern League announced today that six Tennessee Smokies players have been named to the league's North Division squad for the 2014 Southern League All-Star Game, which will take place onJune 17 at AT&T Field in Chattanooga, Tennessee. Infielders Stephen Bruno and Kris Bryant, along with outfielder John Andreoli, starting pitcher Corey Black and relief pitcher Armando Rivero. Catcher Rafael Lopez was also tabbed a Southern League All-Star but will not participate due to his promotion to Triple-A Iowa.
Bryant, rated prior to this season by Baseball America as the eighth-best overall prospect in baseball, leads or is tied for the Southern League lead in ten offensive categories, including all three Triple Crown statistics. Entering play on Tuesday, the 22-year-old owns a .351 average (72-205) with 18 homers and 49 RBI, and paces the circuit in batting average, home runs, RBI, runs (49), hits (72), on-base percentage (.455), slugging percentage (.688), extra-base hits (33) and total bases (141), in addition to tied for first in walks (34).
Bruno enjoyed a strong month of May to propel him to the All-Star honor, batting .346 (27-78) in 21 games, adding 20 runs, 13 doubles, two homers and 16 RBI during the second month of the season. The infielder coming into Tuesday ranks first in the league with 11 hit by pitches, as well as tied for fifth in doubles (15). Overall this season, the 23-year-old in 41 games has accumulated a .288 clip (44-153) with three longballs and 21 RBI, in addition to a .381 on-base percentage.
Andreoli at one point this season reached base in 30 consecutive contests, which currently stands as the longest on-base streak in the Southern League in 2014. In addition, the 24-year-old paces all Southern Leaguers with 26 stolen bases this year, which also places him in a tie for fourth in the Minor Leaguers, while also ranking second in the league in runs scored (36) and third in walks (33). The Smokies leadoff hitter overall this year owns a .235 average (42-179), adding 36 runs scored and eight RBI to go along with a .362 on-base percentage.
After entering this season as the No. 15 prospect in the Cubs organization, Black has compiled a 2-4 record and 3.44 ERA (20 ER in 52.1 IP) in his 11 outings (ten starts) with Tennessee, adding 55 strikeouts. No Southern League pitcher owns a lower batting average against (.186) than the right-hander, while the 22-year-old also ranks second among all Southern League starting pitchers with a .30 strikeout to walk ratio.
Rivero has been strong in the Smokies' closer role in 2014, successfully notching saves in eight of ten opportunities, with those eight saves placing the Cuban fireballer tied for fourth in the league. The 25-year-old has been one of the best relievers in the circuit this season, and enters Tuesday with the best batting average against (.138) and fewest baserunners per nine inning ratio (8.36) among the league's bullpen arms, in addition to tied for first with his 13.50 strikeout per nine inning ratio (13.50).
Lopez was promoted earlier Tuesday from the Smokies to Triple-A Iowa, and accumulated a .297 mark (44-148), adding four homers and 24 RBI in 45 contests for Tennessee. At the time of the transaction, the Florida native ranked sixth with a .412 on-base percentage, in addition to ranking seventh in on-base plus slugging percentage (.879). The 26-year-old also exits with a strong defensive resume, leading the Southern League in runners caught stealing (20) while gunning down 48.8% of would-be basestealers, the top clip in the circuit.
The Southern League's All-Star squads were selected by a vote of Southern League field managers, radio broadcasters, general managers and print media. All players on Southern League rosters as of May 15 were eligible in the voting.
The 2014 Southern League All-Star Game is scheduled for Tuesday, June 17 at 7:15 p.m. Rosters for the South Division squad will be announced tomorrow, while the starting lineups are slated to be made public later this week.
Here we have a video below of John Andreoli, Stephen Bruno, Armando Rivero, and manager Buddy Bailey about the All-Star selections.