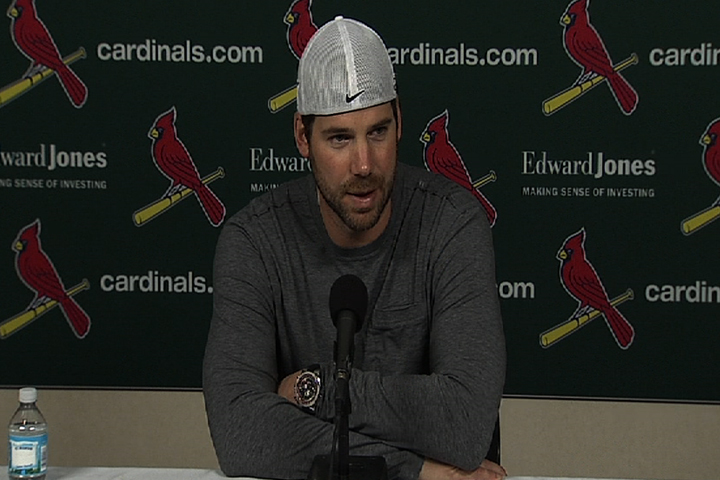 Cardinals pitcher Chris Carpenter has dealt with arm injuries his entire career. His most recent may spell the end for one of the best clutch pitchers in Cardinals history.
St. Louis Cardinals General Manager John Mozeliak and skipper Mike Matheny announced February 5th that Carpenter probably won't pitch in 2013 and that his career could be over after a recurrence of a nerve injury that caused him to miss most of the 2012 season.
Carpenter had major surgery to repair the injury in July of last year. He recovered in time to pitch three games toward the end of the 2012 season, helping St. Louis earn the last National League wild card slot. In the postseason he went on to best Washington in the division series but the success did not continue to the NL Championship Series. Carpenter went 0-2 against eventual World Champ San Francisco, and his velocity and command were noticeably off the mark.
Carpenter took some time to rest his arm in the off season. Right before Spring Training began Carpenter started throwing. The results were not good, with Carpenter experiencing a numbing feeling in his throwing arm along with bruising on his shoulder and hand.
Though Carpenter has not announced any plans to retire, this injury may be the conclusion of what has been a star-crossed career.
Chris Carpenter was selected by the Toronto Blue Jays with the 15th overall pick in the 1993 MLB June Amateur Draft. In 1994 he made his minor league debut with the Medicine Hat Jays in the short-season Pioneer League against the Great Falls Dodgers, tossing six scoreless innings of one-hit ball, fanning nine along the way.
Carpenter spent 1995 and 1996 with the Smokies organization along with former Florida State and Carolina Panthers quarterback Chris Weinke, as well as fellow major leaguers Shannon Stewart, Jose Silva and Kelvim Escobar. In 1996, his only full season with the Smokies, Carpenter went 7 and 9 with a 3.94 ERA and 150 Strikeouts.
The Blue-Jays gave Carpenter his first shot in the big leagues in 1997. Though his numbers were not stellar (3-7 with a 5.09 ERA) he did manage to record his first career complete game and shutout in September against the Anaheim Angels.
Much of Carpenter's time with the Blue Jays was plagued by injury, causing him to miss half of the 1999 season and most of the 2002 campaign. At the end of 2002, Toronto removed Carpenter from the 40-man roster, and offered him a minor league incentive deal. Carpenter declined and decided to try his luck as a free agent.
Toronto's loss was St. Louis' gain. The Cardinals signed Carpenter prior to the 2003 season. Though injuries kept him from producing right away for St. Louis, Carpenter came back strong in 2005. He set career bests in ERA(2.83), strikeouts(213), innings pitched (241 2⁄3), complete games (7) and shut-outs (4) while amassing a 21–5 record for the Division Champion Cardinals. Carpenter was rewarded in the offseason with the 2005 NL Cy Young Award.
The 2005 season was also when Chris Carpenter began to distinguish himself as a dominant postseason pitcher. Although the Cardinals lost to the Houston Astros in the NLCS, Carpenter pitched well, going 2–0 with a 2.14 ERA in 21 innings against the San Diego Padres and Houston. His postseason success continued in 2006, including his first career World Series start in Game 3 against the Detroit Tigers on October 24, 2006 at Busch Stadium in St. Louis by pitching eight innings and allowing no runs on three hits. In his first eight career post-season starts, he had a 5–1 record with a 2.53 ERA in 53 1⁄3 innings. His career postseason record is 10-4 (3.00 ERA) in 18 postseason starts in 100.0 innings, in seventh place for wins, only one behind Curt Schilling (11-2, 2.23 ERA) and Greg Maddux (11-14, 3.27 ERA) for fifth place.
Carpenter has been NL Comeback Player of the Year twice. He has also won the Tony Conigliaro Award (January 11, 2010) unanimously, given annually to a Major League Baseball player who best overcomes an obstacle and adversity through the attributes of spirit, determination and courage that were trademarks of Tony Conigliaro. Whether it was a torn Labrum, torn Oblique or Tommy John Surgery, Chris Carpenter has always managed to come back.
Whether Chris Carpenter comes back or not, he has left his mark on Major League Baseball. Not with gaudy numbers and stats, but as one of the best clutch pitchers in Cardinals history.
Jay Lifford is a Broadcast Media Intern with the Tennessee Smokies. You can follow Jay on Twitter @JayLifford.